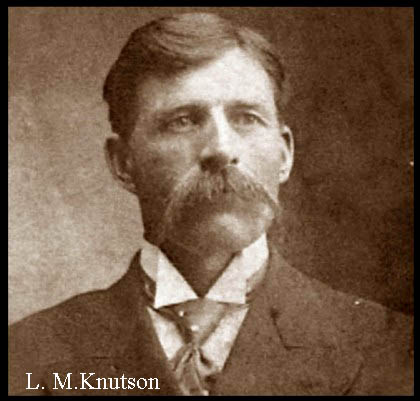 L. M. KNUTSON, of Barron county and former treasurer of the town of Stanfold, dates his settlement in this part of Wisconsin from 1875. At that time Barron was little more than a logging camp, with store, blacksmith shops and a few other log structures. Cumberland had not a reputable wagon road, and the present, closely populated Rice Lake, had but two buildings north of the bridge. The only way to reach different neighborhoods through the county was over the logging camp roads, which were of fearful construction.

Mr. Knutson became one of the earliest permanent settlers of the northern half of the county. He was born at Vik, Norway, Nov. 23, 1860, and was reared there on a farm, attending the schools until he was twelve years old. In 1872 he accompanied his parents and family to America. The father had wisely made a trip previously, and had selected a location at Stillwater, Minn. Here our subject again attended school,. where he remained until the family in 1875 removed to Barron county and settled on a homestead three miles from Cumberland. The latter was then but a small settlement in the woods to which there had, as yet, been no road constructed. Here the father put up a log cabin of the usual type built by the Scandinavians, the logs being hewed and fitted. Supplies were obtainable only from Clayton and Rice Lake, the heavy carrying all having to be done in winter, when the ground was frozen.

The parents of Mr. Knutson, Martin and Anne (Halverson) Knutson, were born, reared and married at Vik, Norway, and through life they retained many of the habits and characteristics of their native land. The Wisconsin homestead became their permanent home, and the father developing the original farm as rapidly as constant industry could accomplish it, became a man of prominence in the affairs of his locality. In religious faith he was a Lutheran, and both he and his wife were active promoters of this religious body at Cumberland, and "were instrumental in having the first church structure erected in the neighborhood, a building still standing. In his public spirited efforts, Mr. Knutson was supported by his neighbors, Hans Hilstad and Oluf Rolla, and by Rev. N. B. Alson, the first clergyman, who is now a resident of Washburn, Wis.
Mr. Knutson was impressed with the crying needs of this locality, one of these being the immediate demand for highways and he did much to assist in providing safe and convenient roads, and he was always ready to take part in any public spirited work. Particularly was he interested in education and felt that the school and church should go hand in hand. He served most acceptably as town treasurer, and was a man of the strictest integrity. His life may be considered to have been unusually successful, his enterprises succeeding and his children growing up to be useful men and women.
He died April 9, 1903, aged seventy-eight years; his wife passed away in August, 1901, aged seventy-two years. They were both buried in the cemetery adjoining the church, three miles east of Cumberland. Their children were : Johanna, never came to America: Helmer resides on a farm in Cumberland; Mary lives at St. Paul, Minn.; Louis M., is the subject proper of this sketch: Lena and Syver are both of Cumberland, where the latter is a farmer.
Louis M. Knutson remained with his parents on the homestead near Cumberland, for several years, and during this time had an opportunity to study the Indian in his native environs, and became acquainted with a number of them, including Chief Catlip. More than once he found entertainment attending their pow-wows, and can speak of much friendliness from them. Mr. Knutson started life on his own account in a logging camp, and worked at logging for several years. In 1880 he was employed by Gundersen & Kallender, railroad contractors, and had charge of their store at Cable, on their Ashland branch; while serving as storekeeper, he was appointed postmaster, under the administration of the late President Garfield. After leaving Cable Mr. Knutson returned to Barron county, and with the exception of one year passed at Tacoma and Seattle, Wash., made a permanent home there.
He settled on his farm in 1888, one of the best in Stanfold township. Mr. Knutson was identified with the township officially from the time of its present existing organization, having been elected its first treasurer and serving six terms in that office. Like his father, he takes a deep interest in educational affairs and has been active in his advocacy of the movements designed to advance the cause to higher standards. For a number of years he has been school clerk. In politics he is a Republican and has served as a member of the Republican county committee and has been a party delegate to some of the conventions.
Since 1894 Mr. Knutson has been interested in bee culture, starting his colony with a wild swarm captured in the woods. By study and care he developed a flourishing apiary, having 130 swarms, and disposing annually of from 4000 to 8,000 pounds of fine honey, which finds a ready market. He considers this a valuable industry for this section and his example has been followed by others. The successful results in his case have been brought about by close attention and the same care given to any other line of business.
Mr. Knutson married Miss Jennie M. Hart, who was born in Barron county, and they have reared a family of seven children, namely: Austin M., Louis E., Jessie H., Robert L., Dora J., Benjamin and Clarence R. Mr. Knutson and his family attend the Presbyterian Church of which they are liberal supporters. He is one of the real representatives of the class of citizens who have made northern Wisconsin the most important part of the State, a class which has not only contributed to its agricultural development, but to its steady advancement in education and morality.